Please contact Hella here.
I credit your skill, perseverance and steady nature along with the extraordinary nature of this work, with moving one more soul along the path towards reclaiming one's identity.
— Richard Welker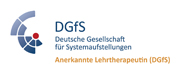 Beth, Story of the Month
So simple and so effective….
Beth came to our group a few months after she had started to work at a new office. Basically she liked the job and the group of people she worked with. She shared her office with one other person. This woman was unfriendly and hostile right from the beginning. Beth had tried different acts of kindness with no results.
We set up Beth and the coworker.
Immediately the energy was calling to set up the coworker's mother behind her. The coworker turned around and addressed her mother with aggressive anger. Beth felt relieved and free. She told her coworker "I am not your mother, please do not confuse us, your anger belongs to your mother, not to me."
This was a brief and simple Constellation, which we did on the Sunday afternoon of a 2 day workshop. Later Beth reported, that there was an immediate and profound change on Monday morning and that they since have worked together in a friendly atmosphere.
No comments yet.
RSS feed for comments on this post. TrackBack URL
Leave a comment
Copyright © 2019. Hella Neumann. All rights reserved. Website by FZK