Please contact Hella here.
I credit your skill, perseverance and steady nature along with the extraordinary nature of this work, with moving one more soul along the path towards reclaiming one's identity.
— Richard Welker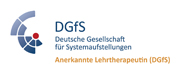 The Joy of a Family Soul Restored
…an email from Sigrid:
Dear Hella,
I did my first Constellation in 2001.
We set up the 3 marriages of my father with all of his children: 5 girls from his first marriage, then twins and myself with my mother, followed by my brother, his only son, with his 3rd wife.
We set up my complete family. To my surprise you placed a second boy next to my brother. Why, I was asking myself all these years!
Uuuuh, writing this I am getting goose bumps all over!
Today the truth came out, my siblings were talking on Facebook and they found out, that my brother has a half brother from the first marriage of his mother.
So it was perfectly right what you did 12 years ago!
I am overjoyed and celebrating you, Hella, and the work you are doing for all of us. I am in bliss and do not find the words to express my joy. I know you will understand.
Many thanks again, …
Wuppertal, July 2013
No comments yet.
RSS feed for comments on this post. TrackBack URL
Leave a comment
Copyright © 2019. Hella Neumann. All rights reserved. Website by FZK